Reed Maintenance Services, Inc.
Looking for a dumpster rental in Northern, AL? Look no further than Reed Maintenance Services, Inc. Our company is well-known for providing top-notch service for any project, regardless of size. With us, you can expect excellent customer service and prompt delivery to your project location. We offer 20, 30, and 40 yard dumpster rentals in Northern, Alabama, serving areas such as Albertville, Arab, Guntersville, Huntsville, Madison, and Union Grove, Alabama among others.
Renting a dumpster from reed maintenance is quick and easy. Just follow the steps below:
1. Decide what size dumpster you will need for your job. If you are not sure, our experts are ready to assist you. Just call us at 256-640-7888.
2. Select the book now button beside the size that you have selected and follow the instructions.
3. We schedule your rental as soon as the online application is complete. In most cases, your dumpster can be delivered on the same day or will be delivered within 24 hours of receiving your completed order.
4. Questions? Call us at 256-640-7888
What is included with your rental?
1. Delivery, pick up, applicable taxes, and your rental period. (If your dumpster is ready for pick up before the rental period is complete, just give us a call)
2. If you have questions, our professionals will be glad to assist you, just call us at 256-640-7888.
What is not included with your rental and will be an additional cost to you:
1. Overfilling/overloading the dumpster. You will incur additional cost if the dumpster is filled over the sidewalls or is over the allowed weight specified with your rental. (As a general guideline, if you are disposing of heavy material such as concrete, dirt, brick, or stone, you will only want to fill the dumpster approximately half way to prevent overweight charges). Overweight charge is $50.00 per ton.
2. Prohibited wastes. If dumpster contains prohibited wastes. (See below for a list of prohibited wastes)
3. Blocked access. If vehicles or materials are blocking access to the dumpster during delivery or pickup, you will be charged a trip charge.
4. Undeliverable. If there are low tree branches, low power lines, the area is uneven or on an incline preventing delivery, you will be charged a trip charge.
5. Questions? Our professionals will be glad to assist you, just call us at 256-640-7888.
Prohibited wastes include:
Paint cans
aerosol cans
oil
Tires
chemicals
sewage
Hazardous wastes
liquids of any kind
batteries
*For questions or further information, call our professionals at 256-640-7888.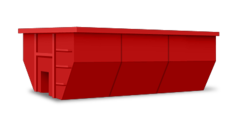 Dimensions
20'L x 7'W x 4'H
Included Tonnage
2.0 included
Additional Days
:
$8/day
Extra Weight
:
$50/ton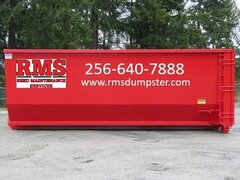 Dimensions
20'L x 7'W x 6'H
Included Tonnage
5 included
Additional Days
:
$8/day
Extra Weight
:
$50/ton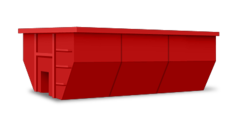 Dimensions
20'L x 7'W x 8'H
Included Tonnage
6 included
Additional Days
:
$8/day
Extra Weight
:
$50/ton